New Delhi-based entrepreneur Ravi Chopra has been making waves in the world of performance marketing with his successful agency, Clicks Bazaar. At the age of 31, Chopra established himself as a go-to expert in helping clients maximize their return on investment (ROI) through online channels. In an exclusive interview with CEO INDIA, he shared insights about his background, his journey, and the unique approach that sets his agency apart.
Humble Beginnings and Passion for Online Marketing
Ravi Chopra hails from a loving middle-class family and attributes his success to the blessings of his parents and his own hard work. His foray into the digital world began when he received his first computer at the age of 15. Intrigued by website development, he learned the ropes and launched his first blog on WordPress.
Driven by curiosity and a desire to monetize his blog, Chopra delved into search engine optimization (SEO) and discovered the power of platforms like Adsense. His dedication paid off, turning his blog into one of the country's most popular within its niche. This early success brought attention from others who recognized his unique approach to online marketing.
Overcoming Challenges and Embracing Continuous Learning Ravi acknowledges that even with a successful start, challenges are inevitable. After a few years in business, he realized the importance of implementing processes and standard operating procedures (SOPs) to sustain growth and ensure scalability. Without these foundational elements, organizations often face obstacles or even break down when expanding. Facing a setback, Chopra took decisive action and restructured his entire company.
To overcome his fears and tackle the hurdles, Chopra adopted a learning mindset. He sought guidance from CEOs of multimillion-dollar companies, enrolled in training programs, and immersed himself in the intricacies of doing business. This commitment to continuous learning allowed him to overcome obstacles and grow Clicks Bazaar to its current level of success.
Family Values and Motivation
For Chopra, his parents have been a constant source of inspiration and motivation. Growing up with modest means, he witnessed the tireless efforts of his parents to provide the best possible life for their family. Reciprocating their dedication, he internalized the family values instilled in him from childhood and made them the driving force behind his entrepreneurial pursuits.
Notable Achievements and Exciting Projects
While Chopra humbly refrains from calling them achievements, his journey has been marked by notable milestones. He has shared his insights as a speaker at "Josh Talks" and organized the esteemed "Indian Bloggers Meet," one of India's largest gatherings of bloggers. Additionally, he has invested in over 10 startups and actively seeks opportunities to mentor and invest in promising ventures.
Looking ahead, Clicks Bazaar has ambitious plans. The agency recently moved to a new office in Gurgaon, five times larger than its previous office, and aims to expand its team by adding 80 to 100 members within the next year. Moreover, the agency is shifting its focus to the lucrative USA market while continuing to serve clients in India.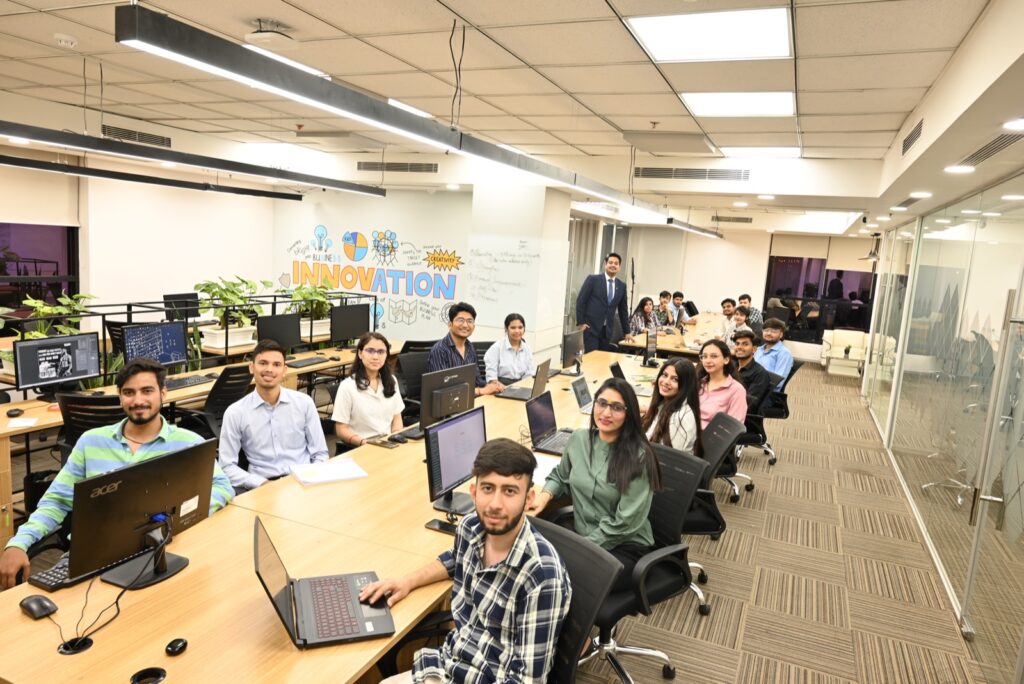 Delivering Results and Creating Win-Win Partnerships
What sets Clicks Bazaar apart from other agencies is its commitment to delivering results. Unlike traditional agency fee models, Chopra and his team are open to profit-sharing arrangements with their clients. By establishing partnerships that create a win-win scenario, Clicks Bazaar strives to accelerate its clients' growth and solidify its position as a top-tier performance marketing agency.
The Power of Networking and Giving Back to Society
Chopra believes that networking is primarily driven by word-of-mouth publicity. By consistently delivering exceptional results, Clicks Bazaar's clients happily refer their friends and business connections, creating a network that continuously expands. Chopra considers this a blessing for his agency.
Furthermore, Chopra recognizes the importance of giving back to society. Clicks Bazaar has undertaken various initiatives to support NGOs, such as designing free websites for registered organizations that inspire them. Additionally, they have organized two major bloggers' meets, the Indian Bloggers Meet and Indian Bloggers Meet 2.0, with the aim of fostering learning and growth within the blogging community. The agency also supports the education of underprivileged children.
Inspiring Others with Perseverance and Faith
When asked for advice to inspire readers, Chopra emphasizes the importance of hard work, persistence, and unwavering faith in achieving goals. He encourages individuals to remain focused on their own journey, avoiding distractions from social media and refraining from comparing themselves to others. Chopra believes that everyone has a unique story, path, and pace, and success will come to those who stay true to themselves.'
Aspiring entrepreneurs and industry enthusiasts can connect with Ravi Chopra on LinkedIn to gain further insights and advice.
In conclusion, Ravi Chopra's remarkable journey from a curious teenager to the founder of Clicks Bazaar serves as a beacon of inspiration. His dedication, resilience, and commitment to delivering results have propelled him to new heights in the performance marketing industry. With his vision and innovative approach, Chopra continues to pave the way for future success in the digital realm.